Main image
Click to view image in fullscreen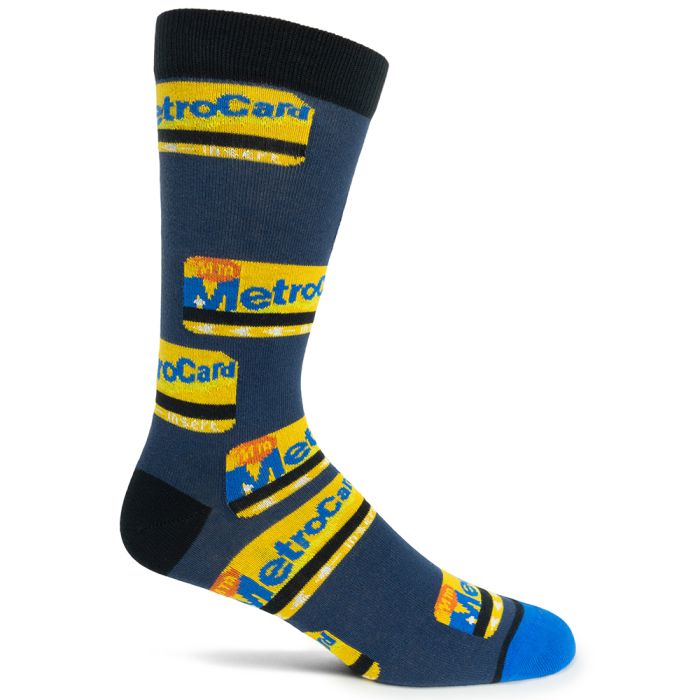 NYC MetroCard Socks Adult
The iconic MetroCard was first introduced in New York City subways in 1995.
Great for every occasion, Father's Day, Graduation, Holidays and more! These socks feature quality craftsmanship and are made with long-fiber, Fair Trade cottons for exceptional durability. Step into style with these sophisticated yet fun dress socks.

Designed in NYC + Made in Colombia
75% Cotton / 24% Nylon / 1% Spandex

Size:
9-W: Women's sock size 9-11 which translates to a shoe size of 5-10
11-M: Men's sock size 10-12 which translates to a shoe size of 8-12.5
Description /
NYC MetroCard Socks Adult
The iconic MetroCard was first introduced in New York City subways in 1995.
Great for every occasion, Father's Day, Graduation, Holidays and more! These socks feature quality craftsmanship and are made with long-fiber, Fair Trade cottons for exceptional durability. Step into style with these sophisticated yet fun dress socks.
Designed in NYC + Made in Colombia
75% Cotton / 24% Nylon / 1% Spandex
Size:
9-W: Women's sock size 9-11 which translates to a shoe size of 5-10
11-M: Men's sock size 10-12 which translates to a shoe size of 8-12.5
What's The Story
Introduced in 1994, the MetroCard revolutionized transit in the city, boosting ridership, making bus-to-subway transfers possible in 1997 and introducing bonus value and unlimited ride cards the following year.
We found other products you might like!
Navigating through the elements of the carousel is possible using the tab key. You can skip the carousel or go straight to carousel navigation using the skip links.
Press to skip carousel