Main image
Click to view image in fullscreen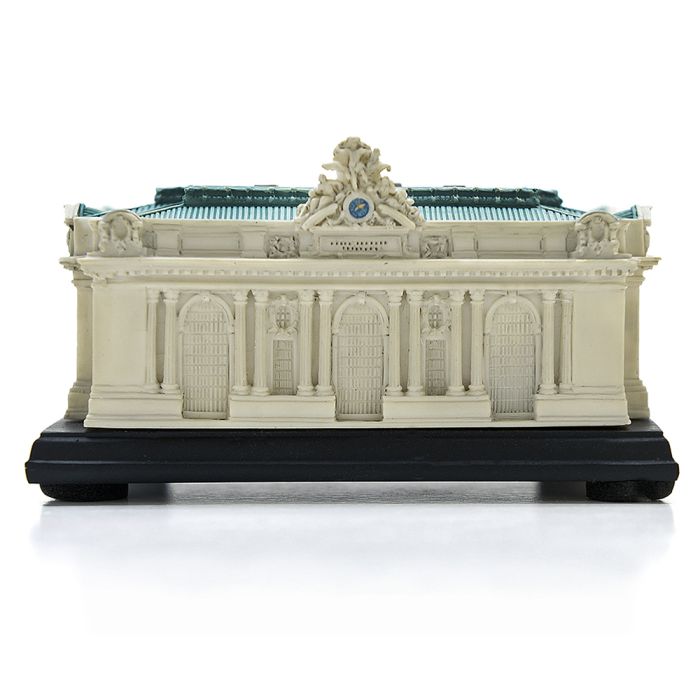 Grand Central Resin Model
This beautiful 3D resin model of Grand Central Terminal features hand-painted details.

Measures: 5 inch Wide x 4.5 inch Deep x 2.75 inch Tall
Description /
Grand Central Resin Model
This beautiful 3D resin model of Grand Central Terminal features hand-painted details.

Measures: 5 inch Wide x 4.5 inch Deep x 2.75 inch Tall
What's The Story
A four-faced golden clock stands atop an octagonal information booth at the center of Grand Central's massive Main Concourse. The Self Winding Clock Company of Brooklyn built the original brass clock in 1913 and built its mechanism in the 1950s. They also produced many of the other clocks located in the Terminal. Like many New York subway and railway clocks, its time was set by an electric signal from the Naval Observatory. Each side of the clock face is made of opaline glass and is lighted from within. At the clock's top rests a large acorn, a symbol of the Vanderbilt's replicated throughout the Beaux-Arts train station. The hands of the clock are positioned at 7:13, or 19:13 in trainmaster's time, signifying the year in which the Terminal opened at 12:01 am on February 2, 1913. In New York's "town square," residents and visitors alike often rendezvous near the clock at the Information Booth.
We found other products you might like!
Navigating through the elements of the carousel is possible using the tab key. You can skip the carousel or go straight to carousel navigation using the skip links.
Press to skip carousel