Main image
Click to view image in fullscreen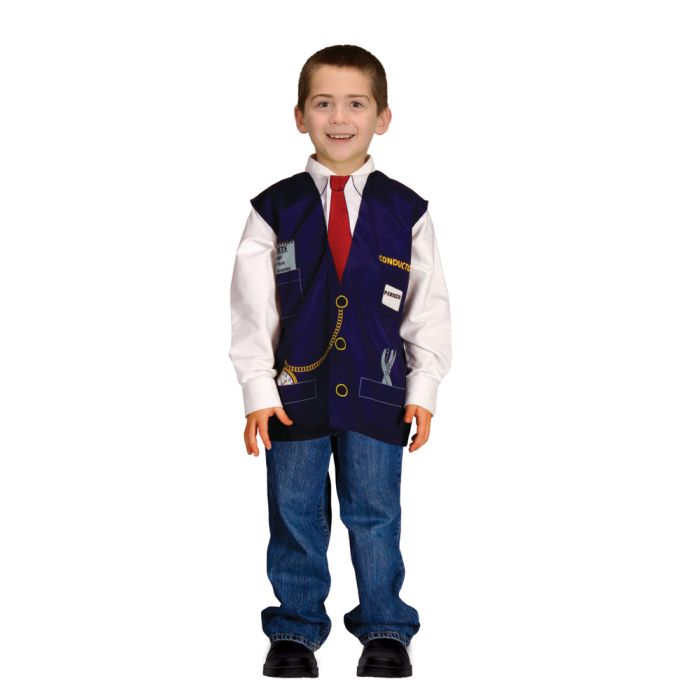 Train Conductor Costume Vest
All aboard! Tickets please! Riding the rails is fun when you dress the part. Ticket book, hole punch and pocket watch are printed on this vest. Easy to put on and take off. Pocket on chest for personalization. Ages 3-6.

Train Conductor vest detailed with printed on pocket watch, ticket book, ticket punch, and conductor on the chest.
MACHINE WASHABLE, for use again and again.
EASY front opening with simple hook and loop closures, makes it easy for kids to put on by themselves.
ONE SIZE fits most girls and boys ages 3-6 100% Polyester


Description /
Train Conductor Costume Vest
All aboard! Tickets please! Riding the rails is fun when you dress the part. Ticket book, hole punch and pocket watch are printed on this vest. Easy to put on and take off. Pocket on chest for personalization. Ages 3-6.
Train Conductor vest detailed with printed on pocket watch, ticket book, ticket punch, and conductor on the chest.
MACHINE WASHABLE, for use again and again.
EASY front opening with simple hook and loop closures, makes it easy for kids to put on by themselves.
ONE SIZE fits most girls and boys ages 3-6 100% Polyester
We found other products you might like!
Navigating through the elements of the carousel is possible using the tab key. You can skip the carousel or go straight to carousel navigation using the skip links.
Press to skip carousel