Main image
Click to view image in fullscreen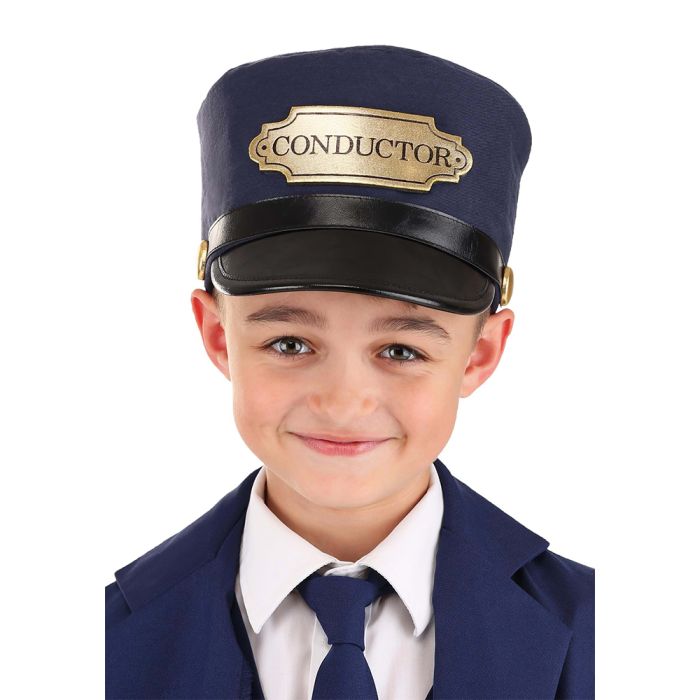 Train Conductor Hat
There's no doubt the number of train movies and cartoons your child watches have had an effect on playtime. All you hear are shouts of, "all aboard!" and breathy chugga-chuggas through clenched teeth coming from their room. And a peek inside always reveals toy boxes lined up and filled with different stuffed animals as passengers to whatever fantasy destination your child has thought up. But, it wasn't until you caught them sneaking a blazer from your closet that you knew your child was fully committed to their train conductor dreams.

Keep your child's imagination on track with this Train Conductor Hat! Whether they're dressed in a full uniform on Halloween or rocking your favorite suit jacket at playtime, this easy accessory will have them feeling ready for the next adventure. Sturdy navy-colored canvas forms the hat's body, while a faux leather brim and band give it a conductor hat's signature shape. A metallic-gold soft-sculpted plate with "conductor" printed on its front is attached above the brim, declaring your child the person in charge. And with a size-adjuster hidden inside the hat, your child is set for sugar-fueled train rides for years to come!

From leading their plush toys across scenic bedroom landscapes to charging ahead of their trick-or-treating pack, this Train Conductor Hat is a must-have costume accessory for your adventurous child!

Features:
100% polyester
Conductor hat w/ faux leather bill and strap
Foam "Conductor" sculpted plate sewn on the front of the hat
Size adjuster inside the rim of the hat
One size fits most kids

Description /
Train Conductor Hat
There's no doubt the number of train movies and cartoons your child watches have had an effect on playtime. All you hear are shouts of, "all aboard!" and breathy chugga-chuggas through clenched teeth coming from their room. And a peek inside always reveals toy boxes lined up and filled with different stuffed animals as passengers to whatever fantasy destination your child has thought up. But, it wasn't until you caught them sneaking a blazer from your closet that you knew your child was fully committed to their train conductor dreams.
Keep your child's imagination on track with this Train Conductor Hat! Whether they're dressed in a full uniform on Halloween or rocking your favorite suit jacket at playtime, this easy accessory will have them feeling ready for the next adventure. Sturdy navy-colored canvas forms the hat's body, while a faux leather brim and band give it a conductor hat's signature shape. A metallic-gold soft-sculpted plate with "conductor" printed on its front is attached above the brim, declaring your child the person in charge. And with a size-adjuster hidden inside the hat, your child is set for sugar-fueled train rides for years to come!
From leading their plush toys across scenic bedroom landscapes to charging ahead of their trick-or-treating pack, this Train Conductor Hat is a must-have costume accessory for your adventurous child!
Features:
100% polyester
Conductor hat w/ faux leather bill and strap
Foam "Conductor" sculpted plate sewn on the front of the hat
Size adjuster inside the rim of the hat
One size fits most kids
We found other products you might like!
Navigating through the elements of the carousel is possible using the tab key. You can skip the carousel or go straight to carousel navigation using the skip links.
Press to skip carousel