Main image
Click to view image in fullscreen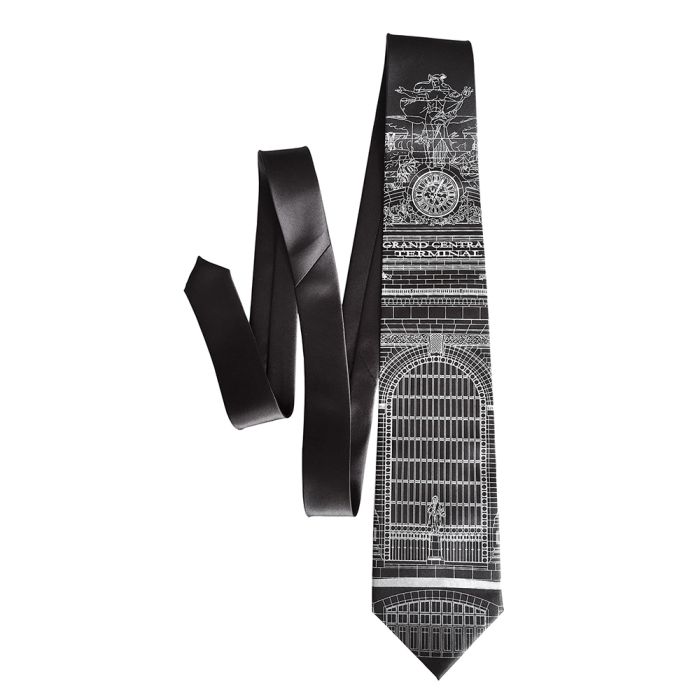 Charcoal GCT Drawing Tie
Beautiful charcoal black tie depicting a drawing of iconic Grand Central Terminal in New York City. A major hub for millions of people from around the world. Show off your New York style wherever you go! Perfect for newcomers, ex-pats, fans from afar and long-time New York City dwellers alike.

Fabric: Silky-soft microfiber. It is an extraordinarily fine-weave synthetic silk. (Vegan friendly)
Description /
Charcoal GCT Drawing Tie
Beautiful charcoal black tie depicting a drawing of iconic Grand Central Terminal in New York City. A major hub for millions of people from around the world. Show off your New York style wherever you go! Perfect for newcomers, ex-pats, fans from afar and long-time New York City dwellers alike.

Fabric: Silky-soft microfiber. It is an extraordinarily fine-weave synthetic silk. (Vegan friendly)
What's The Story
The sculptural group atop the Terminal was conceived in France, but made in Queens. Craftsmen at the Long Island City workshop of John Donnelly, Eliseo V. Ricci, and William Bradley & Son transformed Jules-Félix Coutan's quarter-size model into larger-than-life figures. The sculpture features figures from Roman mythology: Mercury, god of travel, flanked by Hercules (left), representing strength, and Minerva (right), goddess of wisdom.
We found other products you might like!
Navigating through the elements of the carousel is possible using the tab key. You can skip the carousel or go straight to carousel navigation using the skip links.
Press to skip carousel