Main image
Click to view image in fullscreen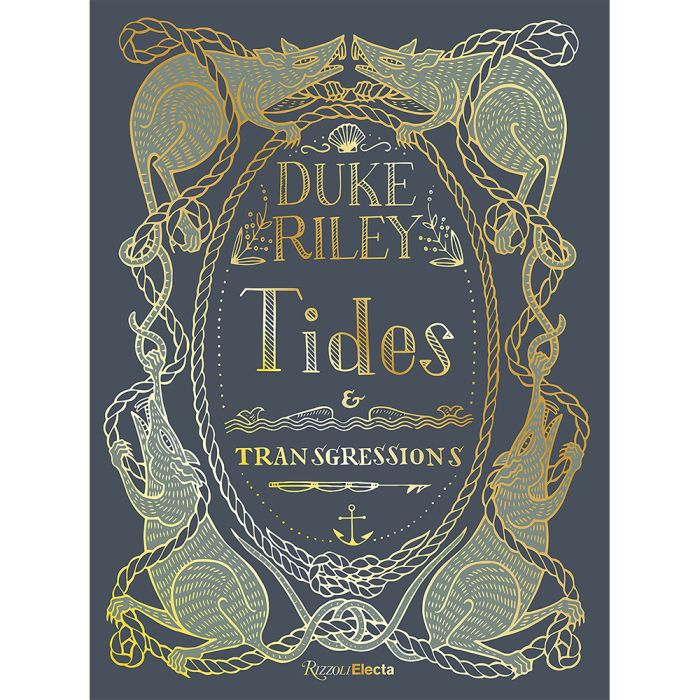 Duke Riley Tides and Transgressions Book
The first survey of the twenty-plus-year career of the highly influential multimedia artist Duke Riley, famous for expressing transgressive political and ecological themes through metaphors drawn from nautical folklore and nature.

Duke Riley's work explores his lifelong fascination with urban waterways, their historical relationship to the culture of life at sea, and the uneasy intersections of human geography with the physical world. His work comments on a range of issues, from the cultural impact of overdevelopment and environmental destruction of waterfront communities to contradictions within political ideologies and the role of the artist in society. This comprehensive monograph collects work from his expansive career, encompassing drawings, sculptures, mosaics, performances, and more than one maritime adventure, including his Fly by Night public art project of pigeons illuminated by LED lights flying across the New York City skyline, documentation of his nefarious shell company Non-Essential Consultants, and the mayhem of the 2009 anarchic mock Roman naval battle, Those About to Die Salute You at the Queens Museum.

ISBN: 9780847872411
Description /
Duke Riley Tides and Transgressions Book
The first survey of the twenty-plus-year career of the highly influential multimedia artist Duke Riley, famous for expressing transgressive political and ecological themes through metaphors drawn from nautical folklore and nature.
Duke Riley's work explores his lifelong fascination with urban waterways, their historical relationship to the culture of life at sea, and the uneasy intersections of human geography with the physical world. His work comments on a range of issues, from the cultural impact of overdevelopment and environmental destruction of waterfront communities to contradictions within political ideologies and the role of the artist in society. This comprehensive monograph collects work from his expansive career, encompassing drawings, sculptures, mosaics, performances, and more than one maritime adventure, including his Fly by Night public art project of pigeons illuminated by LED lights flying across the New York City skyline, documentation of his nefarious shell company Non-Essential Consultants, and the mayhem of the 2009 anarchic mock Roman naval battle, Those About to Die Salute You at the Queens Museum.
ISBN: 9780847872411
We found other products you might like!
Navigating through the elements of the carousel is possible using the tab key. You can skip the carousel or go straight to carousel navigation using the skip links.
Press to skip carousel