Main image
Click to view image in fullscreen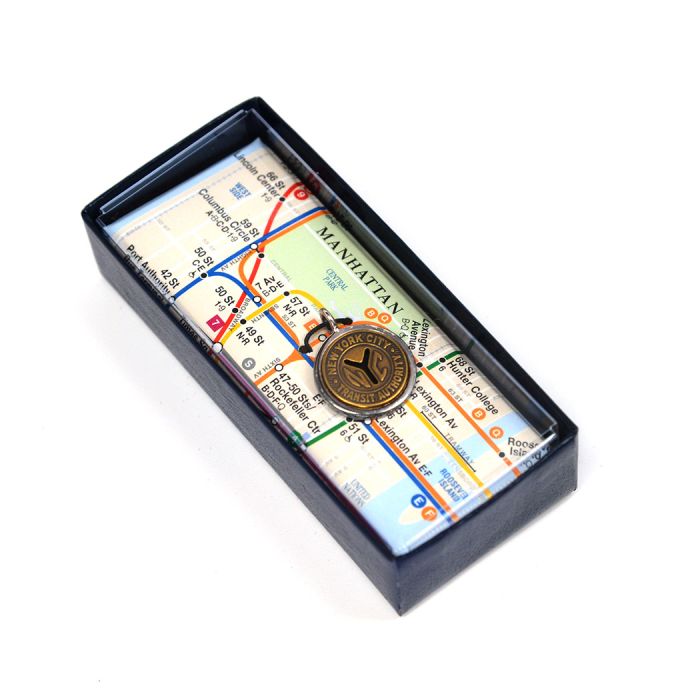 New York City Transit Token Charm
An icon of New York City, this charm is crafted from an authentic dime-sized Y-cut NYC transit token circulated between 1953 and 1970. Add it to your bracelet for a vintage look.

Set in sterling silver
3/4 inch in diameter
Back hallmarked with NYCT
Each charm comes in a New York subway map gift box with a certificate of authenticity
Description /
New York City Transit Token Charm
An icon of New York City, this charm is crafted from an authentic dime-sized Y-cut NYC transit token circulated between 1953 and 1970. Add it to your bracelet for a vintage look.

Set in sterling silver
3/4 inch in diameter
Back hallmarked with NYCT
Each charm comes in a New York subway map gift box with a certificate of authenticity
What's The Story
On July 25, 1953, the subway fare increased to 15 cents. Since turnstiles could not accept both nickels and dimes, the token was introduced. The first token was the size of a dime and made of solid brass. Measuring .650 inches in diameter, the "Y" cut out of its center made it easy to recognize by touch. This token remained in use after the fare was raised to 20 cents in 1966 and it's distinctive design quickly became a New York City icon.
We found other products you might like!
Navigating through the elements of the carousel is possible using the tab key. You can skip the carousel or go straight to carousel navigation using the skip links.
Press to skip carousel