Main image
Click to view image in fullscreen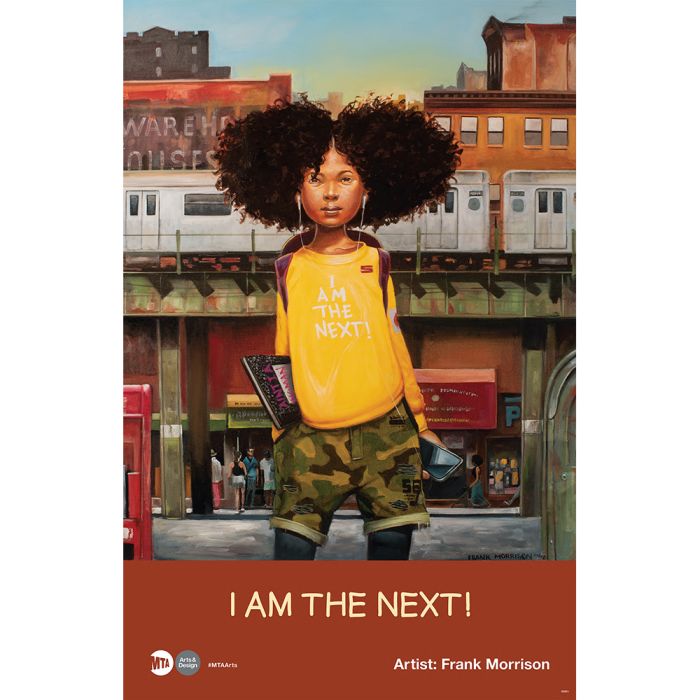 2021 I am the Next - MTA Arts & Design Poster
Frank Morrison's I am the Next highlights a moment in time of a schoolgirl with notebook and cell phone in hand, set within a typical New York neighborhood.  Frank Morrison has illustrated numerous children's books and is known for highlighting the soul of the city through the lens of hip-hop culture and urban iconography.  Originally from New Jersey, Frank Morrison currently lives in Atlantic City, GA. 

Measures 29.5 x 46 inches
Description /
2021 I am the Next - MTA Arts & Design Poster
Frank Morrison's I am the Next highlights a moment in time of a schoolgirl with notebook and cell phone in hand, set within a typical New York neighborhood.  Frank Morrison has illustrated numerous children's books and is known for highlighting the soul of the city through the lens of hip-hop culture and urban iconography.  Originally from New Jersey, Frank Morrison currently lives in Atlantic City, GA. 

Measures 29.5 x 46 inches
What's The Story
This poster was commissioned by MTA Arts & Design and was displayed throughout the subway system. The Poster Program commissions artists each year to create artwork that celebrates the city and its transit system. Posters are displayed on platforms throughout the city's 468 subway stations and sold to the public at the Transit Museum Stores. The Program provides illustrators and other artists the opportunity to reach a broader public, while expressing the people, places, and purpose of the transit network with visual appeal and variety.
We found other products you might like!
Navigating through the elements of the carousel is possible using the tab key. You can skip the carousel or go straight to carousel navigation using the skip links.
Press to skip carousel